28 Junio 2007, 18:29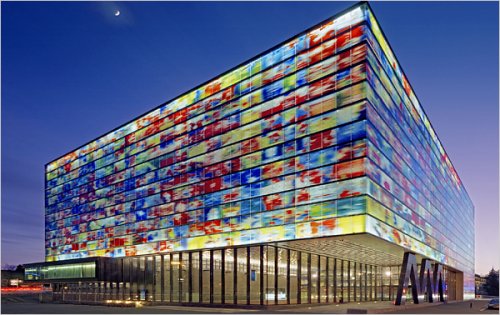 Mr. Neutelings and Mr. Riedijk's building is rooted in pop culture rather than in the ethos of postwar corporate America.
Conceived in collaboration with the 65-year-old artist Jaap Drupsteen, the structure's panels are imprinted with famous images from Dutch television: the justice minister riding his bicycle, say, or Johan Cruyff scoring a goal. Using computer technology, Mr. Drupsteen ran the images together and baked them into the glass.
The effect is mesmerizing. The images are only barely discernible from certain angles, as if the building were imprinted with the faint traces of shared memories. But the exterior facades are also a sly critique of contemporary culture. The blur of images conveys the daily bombardment from the Internet, television, movies and newspapers, yet here they seem frozen in time, as if temporarily tamed.
Inside the building that tranquillity gives way to a comic-book version of Dante's "Divine Comedy," with strict divisions between various worlds. Visitors enter via an internal bridge that crosses over an underground atrium. From here, a vast hall conceived on the scale of a piazza leads to a cafeteria overlooking the calm surface of a reflecting pool. On one side of the hall looms the ziggurat form of the museum; on the other, a wall of glass-enclosed offices. Here the spectral glow of the interior of the cast-glass skin evokes the stained-glass windows of a medieval cathedral.
It's a stunning space whose power lies in the contrast between the various architectural experiences within.
El descuido con el que se mantiene este blog es casi tan enorme como aquel con el que John Ashbery ("claro, no es que yo me ponga en esa categoria") se ocupa de aumentar ultimamente su magna, descomunal obra. "Apenas corrijo el borrador"; "No tengo tiempo de escoger y descartar poemas, ya vendra un editor en el futuro"; "Pues no tengo ni idea de que significa eso, tu que opinas?" In illo tempore esto hiria traducido, pero quien tiene tiempo y un teclado como Dios manda y ademas, que quieren que les diga, me pone mas enlazar a este articulo sobre un reality en un salon de bronceado en el que le hacen "un Lindsay Lohan" a tu hija para la foto de la orla del instituto por apenas #1,300. Cuando uno se hace viejo no es que tenga las prioridades mas claras, pero si entiende cuan arbitrarias son siempre y deja de avergonzarse de ellas.